May 19, 2022
Posted by:

Administrator

Category:

Recreational Marijuana News
[ad_1]

Canopy Growth Corporation, one of the largest cannabis companies in the world, announced the acquisition of Jetty Extracts this week for $69 million. Jetty Extracts was founded in 2013 and is now a leading cannabis brand in California and a top 5 brand in the vape category. The two companies plan to expand Jetty's offerings in California, Colorado, New York and across the broder to Canada, according to a press release.
Canadian-based Canopy Growth is a massive international company that has been expanding its presence well beyond Canadian borders. For years now. Their medical arm, Spectrum Therapeutics, is a leading brand in Canada and Germany.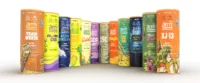 Back in 2018, Canopy solidified a partnership and took considerable investment from Constellation Brands on a long-term play to enter the cannabis beverage market. Then in 2019, they began their aggressive expansion into the U.S. through the multi-billion-dollar deal with Acreage Holdings who, at the time, was the largest U.S. cannabis company. In April of last year, they inked a deal with Southern Glazer's Wine & Spirits following the launch of their first CBD-infused beverage line sold in the United States, Quatreau.
Late last year Canopy Growth announced a deal to acquire Wana Brands, the number one cannabis edibles brand based on market share in North America. The latest acquisition of Jetty Extracts this week follows the same pattern of increasing their North American footprint in the cannabis market considerably.
David Klein, CEO of Canopy Growth, says the cross-border potential excites them. ""Canopy Growth is building a house of premium cannabis brands with a focus on the core growth categories that will power the market's path forward, now including Jetty – a pioneer of solventless vapes," says Klein. "There are significant opportunities for Jetty to scale at the state-level across the U.S. by leveraging Canopy's U.S. ecosystem, and we're actively working on plans to bring the brand to the Canadian recreational market."
[ad_2]

Source link